Allison & Cody
Hoping to Adopt
(Texas)
Letter
Hi
---
We pray for peace and divine wisdom as you make this beyond difficult decision.
---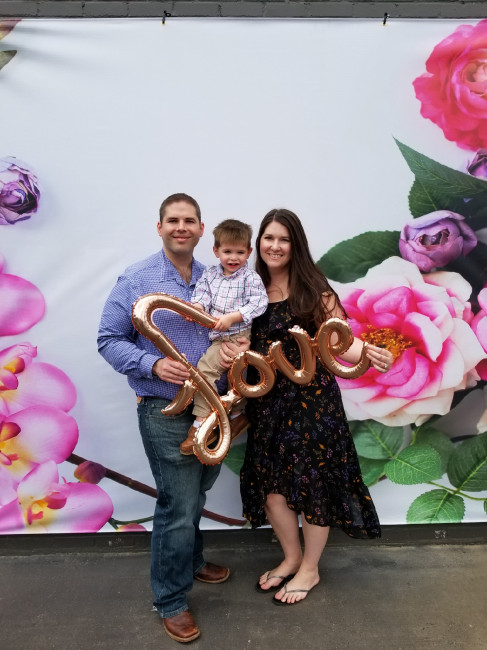 We're Cody, Allison & Harrison.
We wish we could grab a cup of coffee with you and just listen to your full story beginning to end. We don't know the sadness and heartache that you've already endured, but we do know that you are incredibly brave if you are even looking at this profile right now. We firmly believe that God can take whatever sorrow and pain you have and weave them into something beautiful. He can rewrite stories and redeem the broken pieces in your life and ours. If you ultimately choose to pursue an adoption plan with us, know that we will cherish your child and provide the best opportunities we possibly can. We will prioritize laughter, learning, and love in our home. Regardless of if you choose to parent or pick a couple other than us to parent your child, we pray for peace and divine wisdom as you make this beyond difficult decision. Even though we've never met, know that you are not alone. You have us praying for you and others walking alongside you in this journey as a support system. We hope one day soon we'll have the honor of sharing that cup of coffee with you and embarking on this perfectly imperfect journey together.
Meet Allison
---
I love to make people feel special, included, and beloved.
---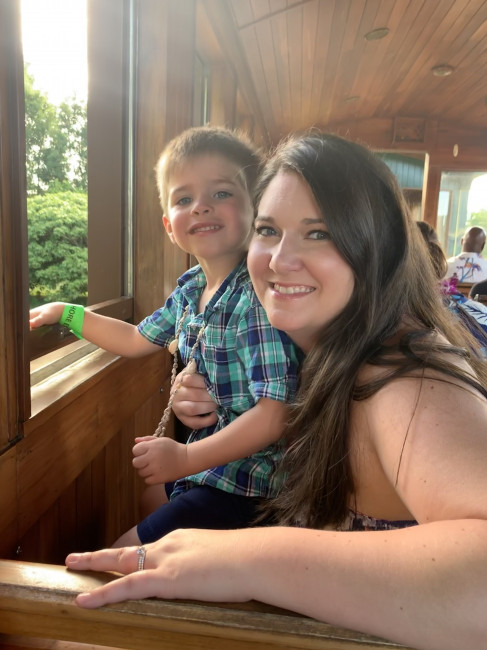 Favorite place to be: On our back patio with coffee, watching football, and hanging with my boys.
"From the moment I first met Allison, I could see right away she was a very caring and genuine person. She is sweet, authentic, and really enjoys life. Her faith in God gives her strength and a confidence that shines through even during the dark days. Allison is independent, strong, and hardworking. She attended the University of Texas and earned both her bachelor's and master's in accounting. She became a CPA and now works in a blend of tax and HR consulting. At the same time, she takes such good care of Harrison and I. One minute she's packing lunches for everyone and then the next she's doing a handmade craft with Harrison. You can tell Allison was raised by educators because she is always finding fun ways to teach Harrison through play without him even realizing he's learning. Last weekend she let Harrison "cook" Jell-O with her and she was teaching math to her unsuspecting pupil. Allison's nurturing side is second to none. She has a nightly routine of reading several books to Harrison and then snuggling with him in bed while singing the ABCs to help him wind down. On the other hand, she is so good at empowering Harrison to make smart choices and has embraced his adventurous personality. I know with any future children we have, she'll cherish what makes that child unique and help them grow into the best versions of themselves." - Cody
Meet Cody
---
I have never met a stranger and Allison says that I have a great ability to make people feel at ease and included.
---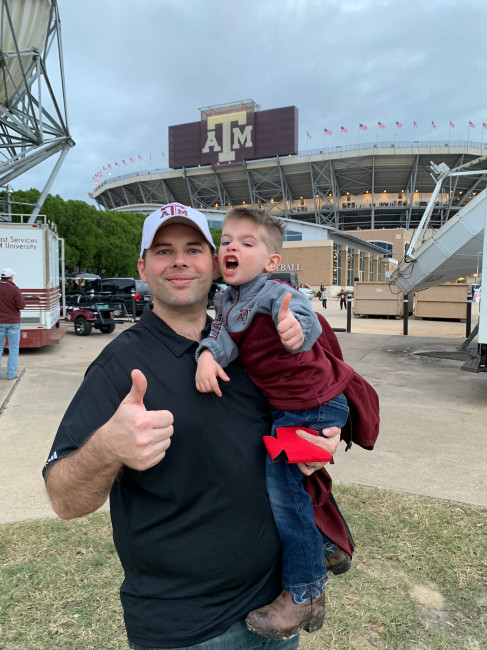 Ready for football!
"The first thing that drew me to Cody when we met was his wonderful sense of humor. He loves to laugh and is just down right jolly. Cody also has an adventurous spirit that is so fun. At the age of 3, he was banned from watching the Dukes of Hazard after he launched his big wheels off of a hand-made ramp he had constructed in the family living room. This love of adventure has carried on into adulthood where he loves being outside and traveling to far off places. Cody is brave, patriotic and loyal as can be. He served our country in the Army for over 3 years. He then used his GI Bill to enroll at Texas A&M where he earned his degree in Mechanical Engineering. Although he has moved into managing a team of engineers now, he definitely still has an engineer's mind and is constantly tinkering with things outside and around the house - I love that he is instilling these mechanical teachings in Harrison along the way. Cody's strength is definitely how he leads and serves both within our family but also at work and in our community. His teams at work love him and they often seek out his counsel for both professional and personal matters. Cody sacrifices so much to provide and take care of his son. Harrison adores Cody and wants to be doing whatever he's doing at all times. I know with any future children, Cody will cook up amazing and fun adventures for them to share together." - Allison
Harrison
---
Harrison is 4 years old and he can't wait to be a big brother!
---
One of his favorite places to be - on his bike!
Harrison is 4 years old and he can't wait to be a big brother! He is constantly asking for a baby brother or sister and has already started setting aside toys for them. Harrison loves trains, cars, trucks, airplanes...really anything that goes! We just took a special trip to Hawaii for Cody's 40th birthday where he got to ride in an airplane, helicopter, submarine, boat, and train all in one week...he was in heaven! He's got his momma's independence and this daddy's no sense of fear, so he's an absolute ball of excitement. At his uncle's wedding when he was only 2.5 years old, he took his job of ring bearer very serious and ran all the way down the aisle to deliver the goods and then ran all the way back out of the church! On the other hand, he is so affectionate - he's a cuddler and every day when we pick him up from his Christian Montessori school, he hugs all of his teachers and no less than 5 of his friends! Harrison is always out playing or riding his bike in the neighborhood where he brings joy to the young, old, and everything in between! He wants to be Spider-Man when he grows up and he's very adamant about it!